It's time to get your entries in for the 2023 NZ Mountain Film & Book Festival! This year's festival takes place from 23 – 30 June in Wānaka and Queenstown, and will showcase the finalists and winning entries in our film and book competitions. With over $5,000 in prize money offered across several different categories this is a great opportunity to share your adventures with the world. Book competition entries close on March 30 and film entries close on 20 April.
Film Competition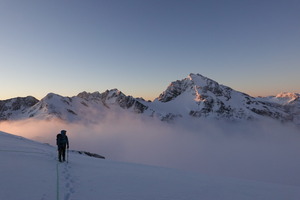 The NZ Mountain Film Festival has been running for 21 years now and as a member of the International Alliance of Mountain Film, our filmmaking competition has built a reputation for attracting world-class films. We receive entries from all around the globe as well as right here in New Zealand.  Our Grand Prize winner takes home USD1000.
As New Zealand's only adventure filmmakers' competition we're also keen to support Kiwi creatives and adventurers and offer a $2500 (NZD) prize for the Best New Zealand made film. Last year's winner was 21-year-old director Maddy Whittaker, a former student of the Adventure Film School run every year as part of the NZ Mountain Film Festival.
The festival celebrates adventurous sports and lifestyles but we welcome a broad interpretation of this theme and we get that not every adventure has to be fast-paced and adrenaline fuelled. We're just as keen to join you on a scenic walk as we are to watch you conquer the world's toughest peaks. So, as long as there is a link with adventurous sports or people, the world's mountains, lakes, rivers, oceans or skies provide the stage, or there is a cultural or environmental theme, your film should fit with our programme.
Award categories are:
– Grand Prize (US$1,000)
– Best Film on Climbing (US$200)
– Best Film on Adventurous Sports and Lifestyles (US$200)
– Best Film on Mountain Culture (US$200)
– Best Environmental Film (US$200)
– Best Snow Sports Film (US$200)
– Best Solo Adventure Film (US$200)
– Best Short Film (10 minutes or less) – free entry if less than 5 minutes in length.
– Best New Zealand made Film; The Hiddleston/MacQueen Award (NZ$2,500)
– Grass Roots Award (NZ$500)
– People's Choice
Enter a film here or through Film Freeway before April 20.
Check out our past Grand Prize film makers here.       
---
Book Competition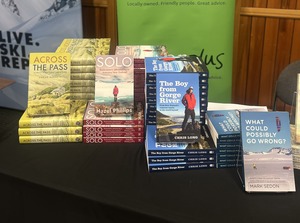 Our Mountain Book competition adds another exciting element to our festival, giving writers the opportunity to showcase their work and win prizes, and our adventure book-loving audience to enjoy readings, book signings and guest speakers. The competition is open to writers from NZ and around the globe, entries can be fiction or non-fiction and, as with our film festival, the theme is Adventure Sports and Lifestyles. 
The Mountain and Adventure Narrative Award is for stories and accounts about specific adventures while the Mountain and Adventure Heritage Awards covers guidebooks, coffee table and picture books, history books, analyses, reflections on culture, environments or ethics, and advocacy. Both categories offer a $250 prize.
The Nankervis/Bamford NZ Mountain Book of the Year is awarded a generous $2000 prize courtesy of the award's founders, John Nankervis and Dave Bamford. It must be set in the mountains of Aotearoa/New Zealand or written by a New Zealander.  This prestigious prize is only awarded for a book of the very highest quality and may not be awarded every year.
Enter here  –  Book entries close on 30 March.
We are also looking for writers and publishers who would like to do book launches and talks at the NZ Mountain Film & Book Festival in Wānaka from 23 – 27 June. Please get in touch via info@mountainfilm.nz
If you are interested in judging our book competition, we would also love to hear from you!